A great recipe from Amy Duska at Little Spoon Farm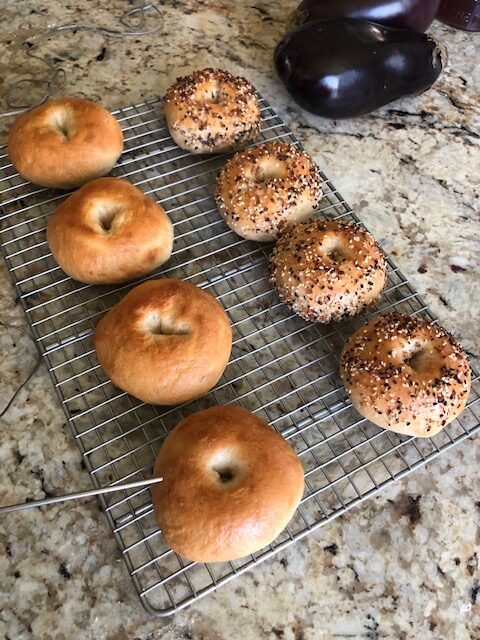 Print Recipe
Sourdough Bagels
https://littlespoonfarm.com/sourdough-bagels-recipe/
Ingredients
1 cup (250 g) sourdough starter (active)

2 cups plus 2 tablespoons (510 g) water

4 tablespoons (80 g) honey (or sugar)

4 teaspoons (20 g) fine sea salt

8 cups + 4 tablespoons (1,000 g) bread flour

1 tablespoon granulated sugar (for boiling water)
Instructions
1
In the bowl of a stand mixer, stir together the starter, water, honey and salt with a spatula. Add the bread flour and use your hands to bring the ingredients together as best as possible. The dough will be very stiff. Place the dough hook on the mixer and mix the dough on the lowest speed for 6-7 minutes. Cover the bowl and let rest at room temperature for 8-12 hours.
2
Line a baking sheet with parchment paper. Turn the dough out onto a clean work surface and divide into 16 equal pieces. Shape each piece into a ball. To shape the bagel, place a dough ball on the surface in front of you and use your thumb to poke a hole straight down through the middle of the dough. Pick the bagel dough up, gently shape the ring and place on the parchment paper. Repeat with remaining dough balls. Cover the dough with a towel and let rise for 30-60 minutes or until puffy.
3
Preheat oven to 425°F (218°C). Put a large pot of water, at least 3 inches deep, to boil and add 1 tablespoon of sugar. Once the bagel dough has finished rising, boil the dough, 3-4 bagels at a time, for 2 minutes per side (4 min total) making sure not to crowd the pot.
4
Use a mesh stainer to remove the bagels and let rest on the parchment paper until cool enough to handle. Once cool enough, dip one side into your choice of toppings and place back onto the parchment paper.
5
Bake the bagels at 425°F (218°C) for 25-28 minutes or until golden brown.
Notes
The above recipe makes 16 bagels. They freeze well so I find it not worth making only 8, which is the amount the original recipe at Little Spoon Farm makes.