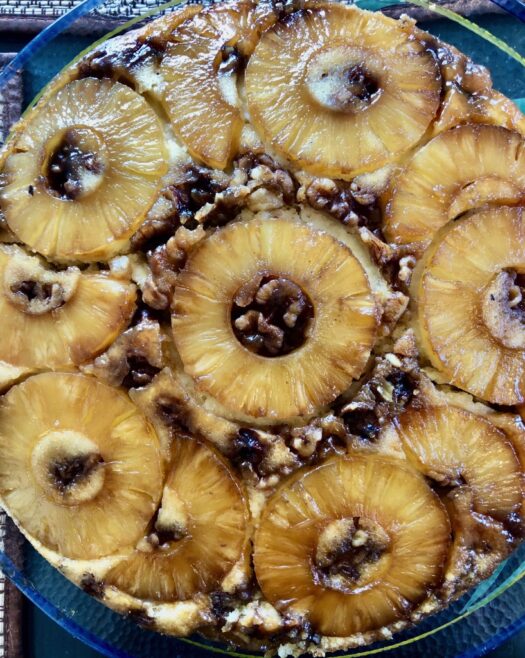 Print Recipe
Pineapple Upside Down Cake
Ingredients
2.5 cups all-purpose flour
1 1/4 cups granulated sugar
Buttermilk or milk
1/2 cup neutral oil
1 tablespoon baking powder
2 teaspoons vanilla extract
1 teaspoon kosher salt
2 large eggs
One 20-ounce can sliced pineapple in juice (not in syrup)
1 tablespoon butter
1/4 cup packed light brown sugar
1 cup walnuts
Instructions
1

Preheat the oven to 350 degrees F.

2

Drain the pineapple juice into a measuring cup. Top off the juice with buttermilk or milk until the measuring cup is reaches 1 1/2 cups of liquid. Pour into the mixing bowl.

3

Add the flour, granulated sugar, oil, baking powder, vanilla, salt, eggs, and 4 tablespoons of the butter.

4

Beat with a mixer on medium speed until well combined. (There will still be a few small lumps in the batter.) Set aside.

5

Melt 1 tablespoon of the butter in a 12-inch cast-iron skillet over medium heat; swirl to thoroughly coat the skillet.

6

Sprinkle the brown sugar over the butter, making sure it's evenly distributed–you want the entire surface of the butter to be covered in brown sugar. Do not stir.

7

As soon as the sugar dissolves, remove from the heat, layer the pineapple slices over the top and add the walnuts over any surface not covered by the pineapple slices (see photo below).

8

Pour the batter evenly over the pineapple and gently spread to even out the top.

9

Bake until a toothpick inserted into the center of the cake comes out clean, 30 to 40 minutes.

10

Immediately run a knife around the edge of the cake, then put a plate upside down on top of the skillet. Carefully invert the skillet so the cake is turned onto the plate. It should come out pretty easily; if bits of cake stick to the skillet, use a small knife to patch it together. Let cool slightly before cutting into wedges. It's best served warm, but room temperature is fine too.