I love this dish. It reminds me of fettuccini Alfredo (but with none of the cream) and one of my favorite simple pastas, Cacio e Pepe.
Adapted from Grandmaspasta.com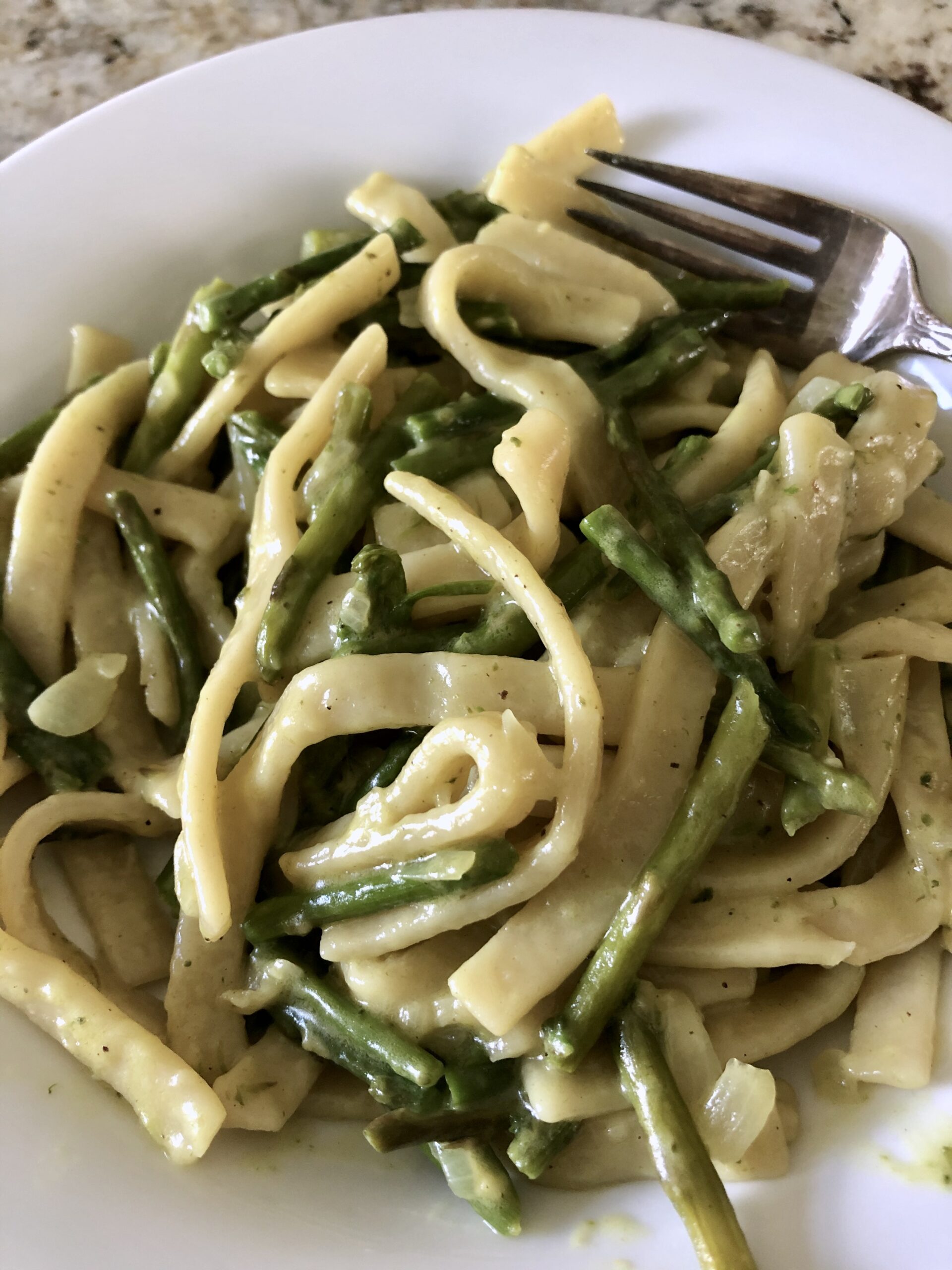 Print Recipe
Laurie's Asparagus & Noodles
Ingredients
1 cup toasted pine nuts (optional)
1 clove garlic
1 lb. fresh asparagus (I prefer the pencil thin ones)
1 tablespoon olive oil
1/2 cup red pepper, sliced thin
1/2 cup chopped onion
3 tablespoons butter (I use 2)
2-6 oz. grated parmesan cheese (I use 2oz)
11 oz.pkg Grandma's Frozen Wide Egg Noodles
Salt and pepper, to taste
Instructions
1

Begin by preparing noodles according to package directions. Sometimes I use chicken broth as the cooking liquid.

2

While noodles are cooking, break woody ends from asparagus and discard. Cut in 1″ diagonal slices, leaving tips whole.

3

Melt 2 tablespoons butter in a large skillet over medium heat and add olive oil.

4

Saute' asparagus, onion, garlic, and red peper until asparagus is tendar crisp. Season with salt and pepper. Lower heat. Add a bit of water and cover the pan if the asparagus is not getting as soft as you'd like - check frequently.

5

Drain noodles (reserving 1/2 cup of the cooking water) and add to skillet along with 1 tablespoon of butter (if using - I don't think it needs it) and the parmesan cheese.

6

Toss gently until heated through. Add some of the pasta water if a creamier consistency is desired.