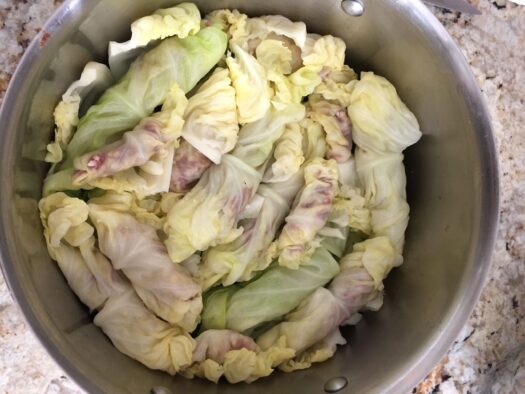 Ingredients
One large head green cabbage
5 cups water
1 pound ground beef (10% fat)
1 cup Calrose or short grain white rice, rinsed well
1.5 teaspoons salt
1 teaspoon allspice
¼ teaspoon pepper
1 teaspoon crushed dried mint
1/4 freshly squeezed lemon juice
3 large cloves garlic, peeled & cracked
STEP 1: CORE CABBAGE
Turn the cabbage upside down and cut in (at an angle) and around the stalk to remove it.
STEP 2: PARBOIL CABBAGE LEAVES
Bring 5 cups water to a boil and add 1 tablespoon salt.
Add the cabbage and cook about 2 minutes, or until the top cabbage leaves get tender and are easy to pull away with tongs. Gently pull off the leaves, being careful not to tear them, and place in a bowl. If the center leaves seem difficult to remove, it is most likely from not removing enough of the core. Use a knife to help release.
Reserve the 4 cooking water and set aside.
STEP 3: MAKE THE FILLING
Put the rinsed rice into a medium bowl. Add the salt, pepper, and allspice, and mix well.
Break up the meat a bit with your hands as you add it into the rice mixture.
Add 2 tablespoons water to help loosen things up, and using two forks, break apart the meat while mixing in the rice. Gently mix until the meat and rice are well blended. Take care not to make the mixture dense.
STEP 4: STUFF THE CABBAGE LEAVES
Lay out a cabbage leaf and slice into the midrib. If the leaf is really big, slice it in half.
Place a small amount of the meat mixture onto the the leaf and spread horizontally without compacting it. As the leaves get smaller toward the center of the cabbage, make sure to use less and less filling. See below for two styles of rolling.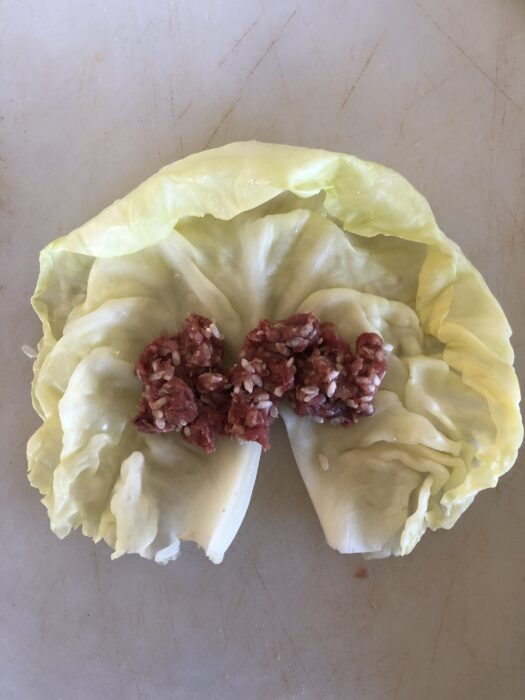 Option 1 (above) is to place the meat on the stalk end of the entire leaf and roll up. I like to tuck in the sides like a burrito but traditionally the leaf is just rolled to the top.
Option 2 (below) is to cut the cabbage in half at the midrib, line the meat along the midrib, and roll up. The midrib will prevent you from tucking in the sides.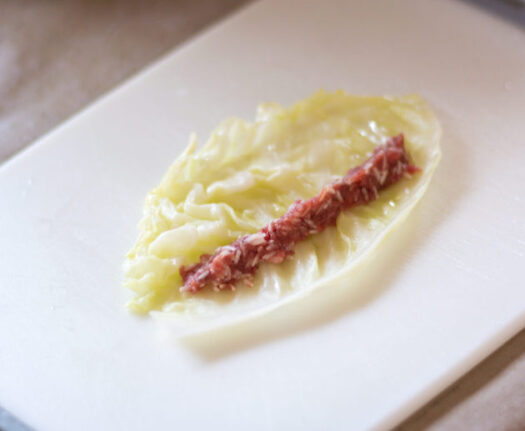 As you roll each cabbage, place them into the pot used to parboil the cabbage. Arrange the rolls, seam side down, in a circular pattern along the bottom of the pan, and then start to stack them on top of one another in the same pattern.
If you have any leftover filling, roll into meatballs and set on top.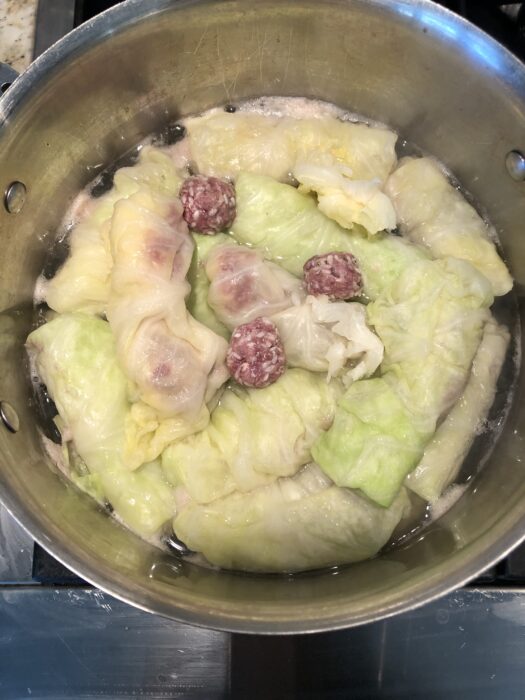 STEP 5: COOK
Add the reserved cooking water until it reaches almost the top of the rolls.
Add the cracked garlic cloves, and 2 teaspoons salt; bring to a boil.
Reduce heat, and simmer, covered, for 45 minutes.
STEP 6:
During the last 10 minutes of cooking add the lemon juice, and dried mint. Tilt the pot back and forth to to help the juice incorporate into the cooking liquid. Taste the liquid for lemon and salt.