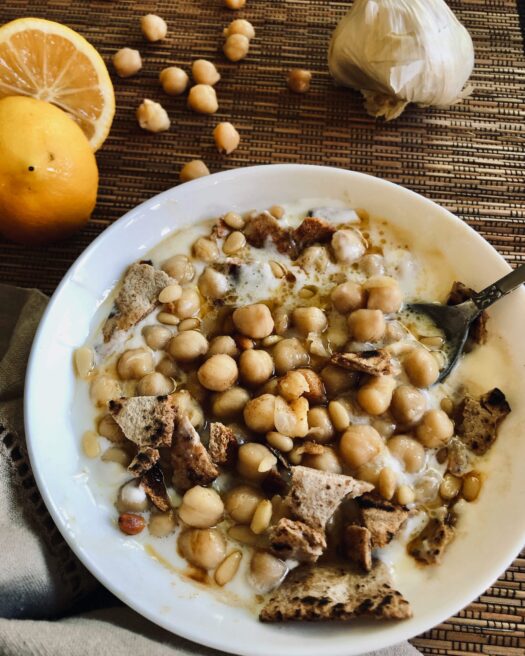 Print Recipe
Garbanzo Beans with Browned Butter & Yogurt (Fatteh)
An all-time favorite dish, fatteh is a popular Middle Eastern breakfast consisting of garbanzo beans, toasted pita, yogurt, browned butter and toasted pine nuts.
Ingredients
1 can garbanzo beans, drained
1 clove garlic
1 teaspoon kosher salt
1 cup plain yogurt
1 toasted pita bread
2 tablespoons butter
2 tablespoosn pine nuts
freshly squeezed lemon juice
Olive oil
Instructions
1

Toast a piece of pita bread until crispy. Break up the pita into a serving bowl or plate. Set aside.

2

With a mortar and pestle, smash the garlic and the salt until a paste is formed. Alternatively, add salt to minced garlic and smash together with a fork. Mix garlic/salt paste into the yogurt. Set aside. *If you want to avoid eating raw garlic, heat 1 tsp olive oil in a pan and cook garlic for about 30 seconds before mixing it with the yogurt.

3

In a small pot, heat the garbanzo beans and 1/2 cup water until hot. Remove from heat and drain. Mix in garlic/salt paste, a squeeze of lemon juice and a light drizzle of olive oil. Taste for salt and garlic. The garbanzo beans should be flavorful enough to eat on their own.

4

Meanwhile, add butter and pine nuts to a pan and cook, stirring constantly until the butter is browned and the pine nuts are golden, approximately 3 minutes. Remove the pan from the heat and set aside.T

5

Traditional way to assemble: Pour the garbanzo beans on top of the toasted pita. Spoon the yogurt all over the top of the beans. Pour the browned butter and pine nuts on top of the yogurt.

6

Alternative way to prepare (as pictured): Leave the garbanzo beans plain but season the yogurt with the garlic/salt paste and salt. Pour the yogurt onto a serving plate or bowl. Pour the garbanzo beans on top of the yogurt. Srinkle with toasted bread crumbs and drizzle browned butter and pine nuts on top.