Inspired by Mendocino Farms' Healthiest Side Dish in the World
Salad dressing adapted from Pinterest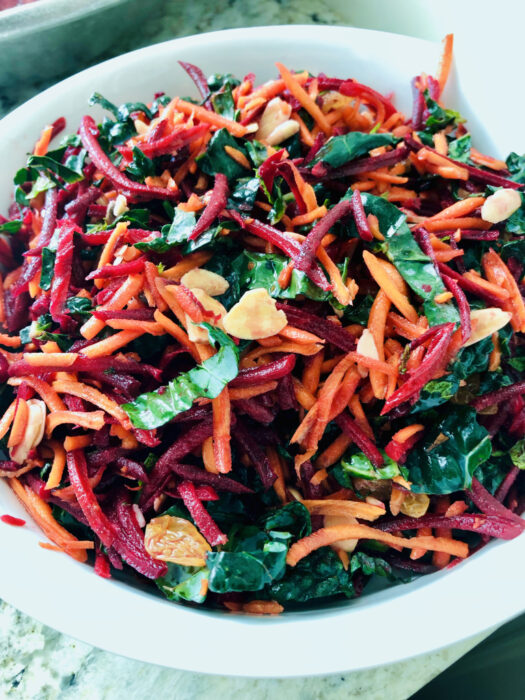 Print Recipe
Beet & Carrot Salad with Black Rice & Kale
Ingredients
2/3 cup uncooked black rice (forbidden rice)
1/2 pound raw beets, peeled and shredded (about 3 small)
1/2 pound shredded carrots, shredded (about 3 medium)
2 cups packed shredded kale (about 3 stems)
1/3 cup golden raisins
1/3 cup toasted hazelnuts, pecans, or marcona almonds, chopped
A few tablespoons chopped fresh mint
Pinch of cayenne pepper
1/4 teaspoon kosher salt
Freshly cracked black pepper, to taste
DRESSING
1/3 cup orange juice
1/4 cup olive oil
1 tablespoon apple cider vinegar (or lemon juice)
1 tablespoon dijon mustard
1 tablespoon honey
1/4 teaspoon kosher salt
Freshly cracked black pepper, to taste
Pinch of cayenne pepper (optional)
Pinch of smoked paprika
1 teaspoon freshly grated ginger
Instructions
1

Boil the black rice in about 1 1/3 cups of water until tender, approximately 45 minutes (or follow package instructions); drain.

2

Shred the beets and carrots (I use the shredder attachment on my food processor).

3

Remove the stems from the kale and shred or chop finely.

4

Place all ingredients for dressing into a jar with a tight fitting lid.

5

Place the rest of the ingredients in a bowl and toss with about half of the dressing. Taste and add more dressing as needed.