Untested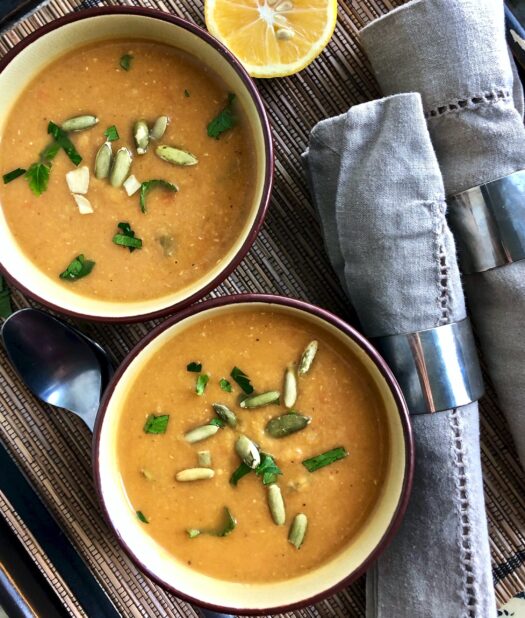 Print Recipe
Red Lentil Soup with North African Spices
Ingredients
4 tablespoons butter
1 onion, minced
3/4 teaspoon ground coriander
1/2 teaspoon cumin
1/4 teaspoon ginger
1/8 teaspoon cinnamon
1 tablespoon tomato paste
1 clove garlic
4 cups chicken broth
2 cups water
10.5 oz red lentils, picked over and rinsed
2 tablespoons lemon juice
1.5 teaspoon dried mint
1 teaspoon paprika
1/4 cup chopped fresh cilantro
Instructions
1

Melt 2 tablespoons butter in large saucepan over medium heat.

2

Add onion and 1 teaspoon salt and cook, stirring occasionally, until softened but not browned, about 5 minutes.

3

Add coriander, cumin, ginger, cinnamon, cayenne, and 1/4 teaspoon pepper and cook until fragrant, about 2 minutes.

4

Stir in tomato paste and garlic and cook for 1 minute.

5

Stir in broth, water, and lentils and bring to simmer. Simmer vigorously, stirring occasionally, until lentils are soft and about half are broken down, about 15 minutes.

6

Whisk soup vigorously until it is coarsely pureed, about 30 seconds.

7

Stir in lemon juice and season with salt and extra lemon juice to taste.

8

Melt remaining 2 tablespoons butter in small skillet. Remove from heat and stir in mint and paprika.

9

Soup can be refrigerated for up to 3 days. Thin soup with water, if desired, when reheating.