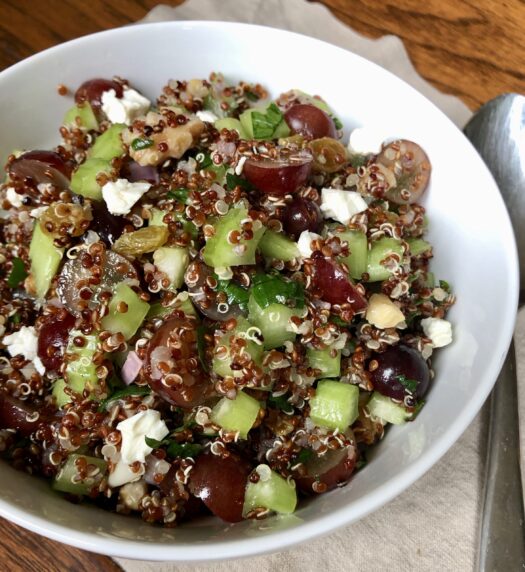 Print Recipe
Quinoa Salad with Feta, Grapes & Walnuts
Ingredients
1 cup uncooked red quinoa (or 3 cups cooked)
1 cup red or green grapes, halved
1 cup celery, diced
1/4 cup walnuts, toasted and chopped (or use slivered almonds)
1/4 cup golden raisins, chopped up
1/4 cup fresh parsley, minced
1/4 cup crumbled feta (not pre-crumbled feta - crumble yourself)
DRESSING:
1/4 cup lemon juice
2 tablespoons honey
1 teaspoon fresh thyme, finely chopped (optional)
1/2 teaspoon salt (if not using feta, increase salt)
3 tablespoons olive oil
1 tablespoon shallot, minced or 1/4 cup green onions, finely sliced (If salad will be stored for leftovers, I omit the onions/shallots as they get stronger tasting as they sit and overpower the flavor).
Instructions
1

Rinse quinoa and then bring to a boil with 1 3/4 cups water. Cook for 15-20 minutes or until all the water is absorbed.

2

Meanwhile, add the shallots and lemon juice to a mason jar and allow to marinate for at least 20 minutes (or overnight).

3

Drain the quinoa and allow to cool completely.

4

Add the rest of the ingredients for the dressing into the jar and shake well.

5

Add all the ingredients, except feta, for the salad into a bowl. Add dressing and toss well.

6

Sprinkle with crumbled feta.