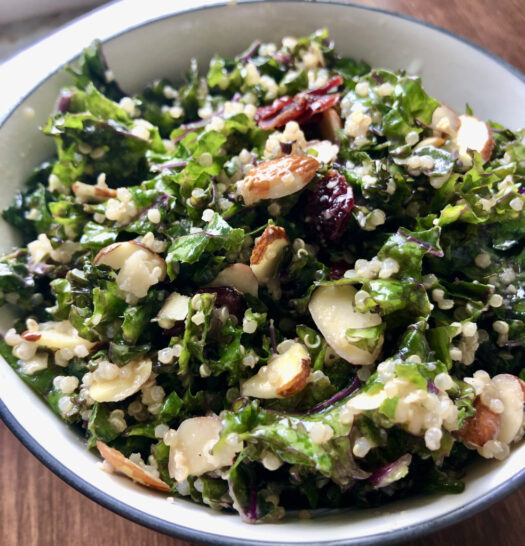 Print Recipe
Kale Salad with Quinoa & Cranberries
This delicious, hearty salad makes a satisfying meal in itself.
Ingredients
1 bunch kale, center ribs removed, leaves shredded
1/4 cup sliced or slivered almonds
1 cup cooked quinoa (boil 1/4 cup quinoa with with 1/2 cup water for 15 minutes)
1/4 cup dried cranberries, chopped
1/4 cup grated Parmesan cheese
DRESSING
1 small clove garlic, minced
6 tablespoons olive oil
2-3 tablespoons lemon juice
1/2 teaspoon kosher salt
1/4 teaspoon pepper
Dash of red pepper flakes
Instructions
1

Rinse quinoa; place in a small pot with 1/2 cup water; bring to a boil, reduce heat, and simmer for 10 minutes. Remove from heat for 5 minutes.

2

Set the quinoa into the salad bowl and allow to cool off while preparing the salad.

3

Whisk together the ingredients for the dressing or place in a jar and shake well.

4

Shred the kale and place in a salad bowl; gently massage the kale with your hands until it starts to break down.

5

Add the quinoa, almonds, cranberries, parmesan, and dressing, and toss well to combine.