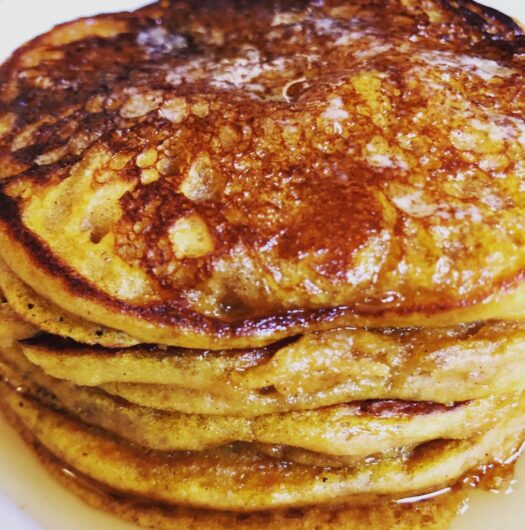 Print Recipe
Pumpkin Oat Pancakes (GF)
Ingredients
2 cups old fashioned oats
1 teaspoon baking powder
1 teaspoon baking soda
1/2 teaspoon pumpkin pie spice or cinnamon
1/2 teaspoon salt
1 cup buttermilk (or milk+2 teaspoons apple cider vinegar)
3/4 cup pumpkin puree
2 eggs
3 tablespoons maple syrup or brown sugar
1 1/2 teaspoons vanilla extract
2 tablespoons butter
Instructions
1

Add all ingredients, except butter, to a blender until well combined (you don't have to use a blender but texture will be different - just as good - but different).

2

Heat a non-stick skillet over medium-low heat Melt the butter to coat the pan; pour remaining butter into the batter and mix well.

3

Pour 1/4 cup of batter onto the skillet; if needed, help the batter spread out to about a 4-inch circle (I can fit about 3 on my pan at a time). Cover, and cook about 1 minute, or until bubbles form on the surface and the bottom has browned. Flip pancakes and cook another 1-2 minutes or until cooked through. Adjust the heat as needed to prevent burning. Add additional butter to the pan as needed.
Notes
What to do with leftover pumpkin puree? You'll have just enough pumpkin puree leftover to make: Pumpkin Oat Muffins with Streusel Topping, Ultimate Pumpkin Bread, Pumpkin Oat Icebox Muffins, Pumpkin Pie Chia Seed Pudding, Pumpkin Pie Smoothie, Pumpkin Cupcakes.