Adapted from Onelovelylife.com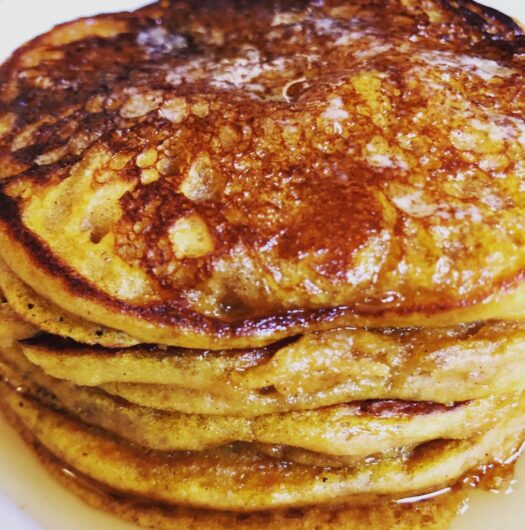 Print Recipe
Pumpkin Oat Pancakes (GF)
Ingredients
1.5 cups old fashioned oats
1/4 cup fine cornmeal (or 1/2 more oats)
1 teaspoon baking powder
1 teaspoon baking soda
1/2 teaspoon cinnamon
1/2 teaspoon salt
1/4 teaspoon nutmeg (or pumpkin pie spice)
1 cup buttermilk or milk
3/4 cup pumpkin puree
2 eggs
3 tablespoons maple syrup, brown sugar, or honey
2 teaspoons apple cider vinegar
1.5 teaspoons vanilla extract
2 tablespoons butter
Instructions
1

Place all dry ingredients into a blender and blend until it is the consistency of flour.

2

Pour into a bowl and add wet ingredients and mix until just combined.

3

Meanwhile, heat a large skillet over medium-low heat. Melt the butter and then add mix it into the batter.

4

Pour 1/4 cup of batter onto the skillet; help it to spread to about a 4-inch circle. Cover, and cook about 1 minute, or until bubbles form on the surface and the bottom has browned. Flip pancakes and cook another 1-2 minutes or until cooked through. Adjust the heat as needed to prevent burning.
Notes
What to do with leftover pumpkin puree? You'll have just enough pumpkin puree leftover to make: Pumpkin Oat Muffins with Streusel Topping, Ultimate Pumpkin Bread, Pumpkin Oat Icebox Muffins, Pumpkin Pie Chia Seed Pudding, Pumpkin Pie Smoothie, Pumpkin Cupcakes.