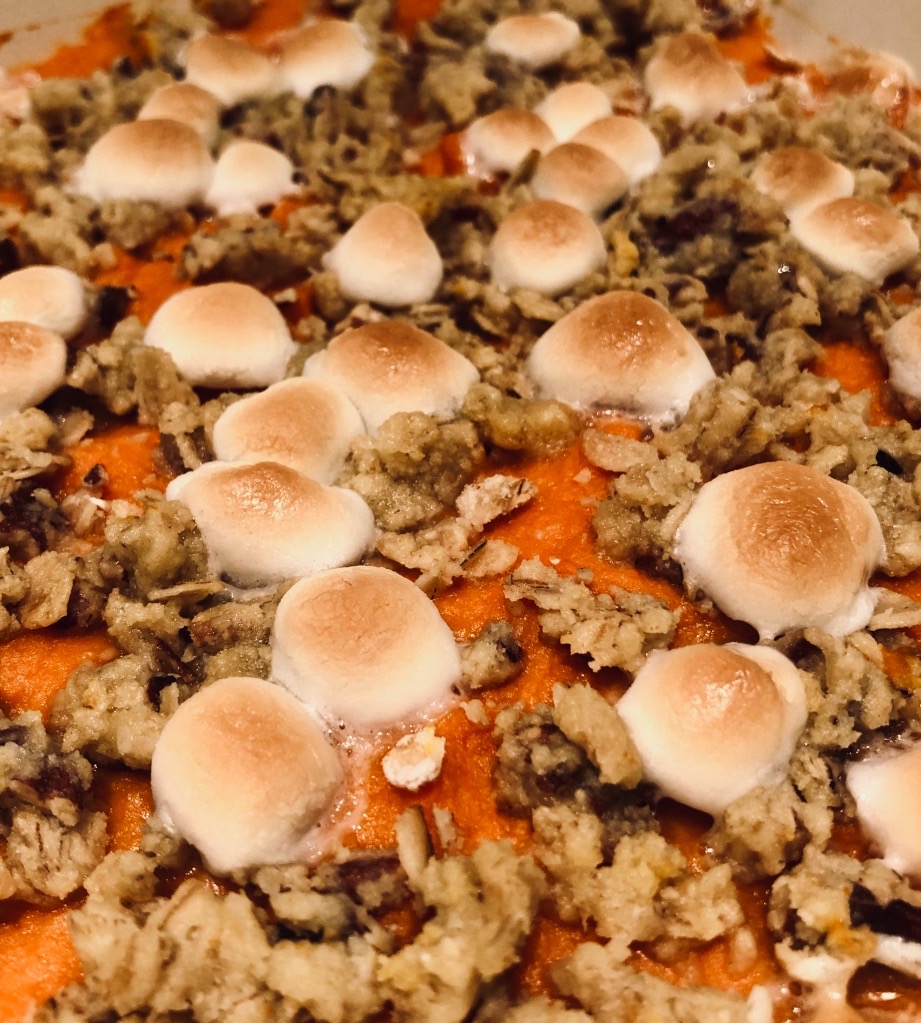 Print Recipe
Sweet Potato Casserole with Pecan Oat Crumble
Ingredients
2.5 pounds sweet potatoes, peeled & cooked or 2 (18oz) bags Trader Joe's Frozen Mashed Sweet Potatoes (in-stock seasonally)
1/3 cup milk
2 eggs, beaten
3 tablespoons melted butter
2 tablespoons maple syrup or brown sugar
1/2 teaspoon vanilla extract
1 teaspoon kosher salt
1/2 teaspoon baking powder
TOPPING:
1⁄2 cup flour
1⁄2 cup rolled oats
1⁄2 cup packed brown sugar
1⁄4 cup finely chopped pecans
1⁄2 teaspoon kosher salt
5 tablespoons butter, room temperature
1/2 cup mini-marshmallows
Instructions
2

Peel and cook sweet potatoes (see notes) or prepare 2 bags frozen Trader Joe's Mashed Sweet Potatoes according to package directions.

3

In a large mixing bowl, add sweet potatoes, milk, butter, eggs and the rest of the casserole ingredients to a large mixing bowl; stir or beat to combine.

4

Spread mixture into a 13x9x2 baking dish.

5

TOPPING: Stir together flour, oats, brown sugar, pecans, and salt in a bowl.

6

Add butter and stir into flour mixture until well combined.

7

Sprinkle crumble evenly over the sweet potato mixture and dot with as many mini-marshmallows as desired.

8

Bake until the topping and marshmallows are browned, about 30 minutes.

9

Cool for 10 minutes before serving.
Notes
To bake sweet potatoes: Heat oven to 425°. Place sweet potatoes on a parchment paper-lined baking sheet and bake until soft, about 1 1⁄2 hours. TO BOIL: Peel potatoes and cut into 2 inch cubes. Cook in a pot of boiling, salted water for about 15 minutes or until tender.