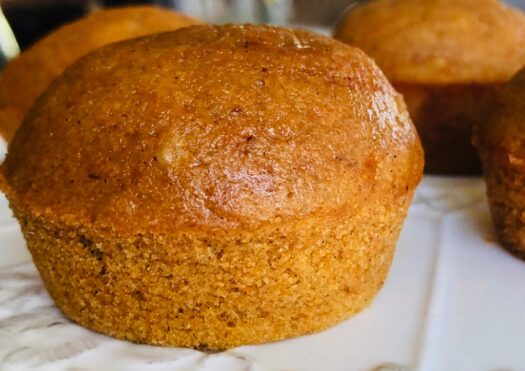 Print Recipe
Pumpkin Cupcakes with Cream Cheese Frosting
Ingredients
1/3 cup (67g) vegetable oil
2 large eggs, at room temperature
1 cup (198g) sugar (I use 3/4 cup and I like a mix of 1/4 cup brown with 1/2cup granulated sugar)
1 cup (227g) canned pumpkin purée
1 teaspoon pumpkin pie spice (or 1/2 teaspoon cinnamon plus 1/4 teaspoon each ginger and nutmeg)
1 teaspoon salt
1 teaspoon baking powder
1 1/4 cups (149g) all-purpose flour (I use 3/4 cup all-purpose and 1/2 cup whole wheat pastry flour)
CREAM CHEESE ICING
1/2 cup (113g) cream cheese, at room temperature
3 tablespoons (43g) butter, softened
1 3/4 cups (198g) confectioners' sugar (I use 1 1/4 cup sugar -150g)
1 teaspoon vanilla extract
3 tablespoons (32g) finely diced crystallized ginger (I skip this)
Instructions
1

Preheat the oven to 350°F.

2

Lightly grease a muffin tin or use cupcake liners.

3

Beat together the oil, eggs, sugar, pumpkin, spices, salt, and baking powder till smooth.

4

Add the flour, stirring just until smooth.

5

Fill each well with 1/4 cup of batter.

6

Bake for approximately 15-17 minutes, or until a knife inserted in the center comes out clean with a crumb or two attached.

7

Remove from the oven, and allow to cool for about 5 minutes, then transfer to a rack to cool.

8

While the cupcakes are cooling, prepare the icing (If the butter and cream cheese are cold, warm them very briefly in the microwave, just till they feel soft but haven't begun to melt). Also, note - the cream cheese recipe above makes more than I feel is needed for the amount of muffins. I always cut the recipe in half.

9

Beat together the cream cheese, butter, sugar, and vanilla till smooth.

10

Spread the soft frosting atop the completely cooled cupcakes

11

Sprinkle with the crystallized ginger.
Notes
You'll only need a partial can of pumpkin puree for this recipe. Try one of these recipes with what's leftover: Pumpkin Pie Chia Seed Pudding • Ultimate Pumpkin Bread • Pumpkin Oat Icebox Muffins • Hidden Veggie Icebox Muffins Pumpkin Cupcakes • Pumpkin Pie Smoothie • Pumpkin Oat Pancakes • Whole Wheat Pumpkin Pancakes