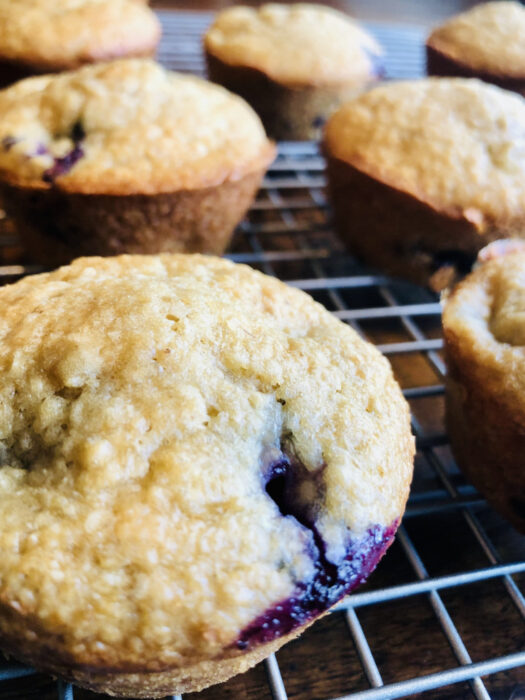 Print Recipe
Overnight Buttermilk Bran Muffins
This is an excellent recipe for moist bran muffins. Using the wheat bran out of a boxed cereal (such as All Bran) as the original recipe calls for, makes a traditional tasting bran muffin. Using Oat bran (such as Bob's Red Mill Oat Bran) turns it into a completely different, yet equally delicious, flavor profile. The best part about this recipe is that the batter sits overnight and you can bake as many as you'd like in the morning. The batter will hold up for a week in fridge.
Ingredients
1/2 cup (113g) boiling water
1/3 cup (43g) + 1 1/2 cups (128g) King Arthur's Oat Bran or wheat bran cereal (such as All Bran - not bran flakes), divided
1/3 cup (67g) vegetable oil
1 large egg
1 1/4 cups (149g) All Purpose Flour (1 cup can be whole wheat flour)
1/4 cup (50g) granulated sugar
1 teaspoon baking powder
1/2 teaspoon salt
3/4 cup (128g) raisins (I use chopped walnuts blueberries, or banana chunks instead)
1 1/4 cups (283g) buttermilk
1/4 cup (53g) brown sugar
1 teaspoon baking soda
Instructions
1

In a small mixing bowl, pour the boiling water over 1/3 cup of bran. When cooled, mix in the vegetable oil and egg.

2

While the water/bran mixture cools, whisk together the flour, sugar, baking powder and salt in a large mixing bowl.

3

In a large measuring cup, combine the buttermilk, brown sugar, and baking soda; stir into the dry ingredients.

4

Stir in remaining bran, then the softened bran mixture. Cover the batter and refrigerate overnight.

5

When you're ready to bake, preheat the oven to 375°F. Line or spray a muffin tin.

6

Stir the batter once or twice and fold in the fruit, then scoop a heaping 1/4-cup of batter into each prepared muffin cup.

7

Bake for 20 to 25 minutes, until a tester inserted in the center comes out clean.

8

Remove from the oven, cool in the pan on a rack for 10 minutes before removing the muffins from the pan.