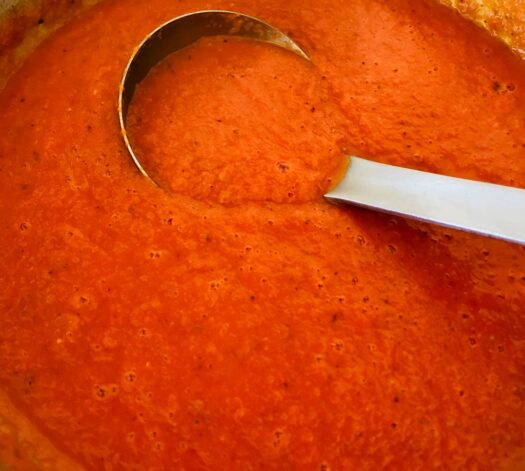 Print Recipe
Oven Roasted Marinara Sauce
Ingredients
2 tablespoons olive oil
1 medium Spanish onion, roughly chopped
3 cloves garlic, minced
1/2 teaspoon crushed red pepper flakes (optional)
1 1/2 teaspoons dried oregano
2 (28-ounce) cans peeled plum tomatoes
1 1/2 teaspoons Kosher salt
Freshly ground black pepper
4 tablespoons fresh oregano
Instructions
2

Heat the olive oil in a large oven proof sauté pan over medium heat.

3

Add the onions and garlic and cook for about 5 minutes until translucent.

4

Add the red pepper flakes and dried oregano and cook for 1 minute more.

5

Meanwhile, drain the tomatoes through a sieve and crush them into the pan with your hands. Add salt and a pinch of black pepper.

6

Cover the pan with a tight fitting lid and place it in the oven for 1 1/2 hours. Remove the pan from the oven and let cool for 15 minutes.

7

Use an immersion blender or place the tomato sauce into a blender and puree in batches until it's a smooth consistency. Return to the pan.

8

Reheat the sauce and add 2 tablespoons fresh oregano.

9

Add salt and pepper, to taste, and simmer for 10 minutes. Toss the pasta into the sauce and cook for 2 minutes more.