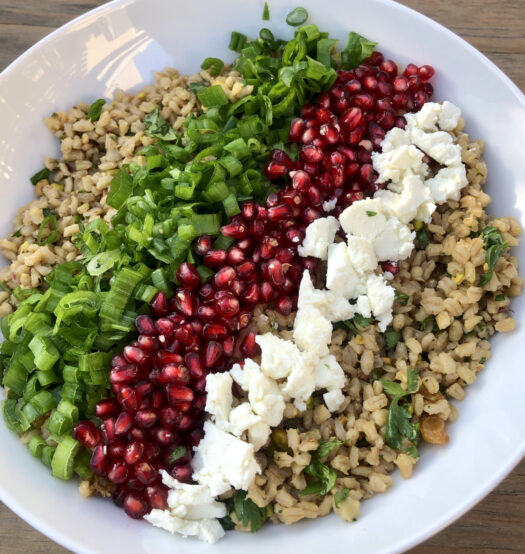 Print Recipe
Ingredients
1.5 cups pearl barley (do not substitute hulled barley or hull-less barley)
⅓ cup golden raisins
½ cup coarsely chopped cilantro
¼ cup shelled pistachios, toasted and chopped coarse
3 ounces feta cheese, cut into ½-inch cubes (¾ cup)
6 scallions, green parts only, sliced thin
½ cup pomegranate seeds
Freshly cracked pepper, to taste
DRESSING:
3 tablespoons extra-virgin olive oil
2 tablespoons pomegranate molasses
½ teaspoon ground cinnamon
¼ teaspoon ground cumin
1/2 teaspoon kosher salt, more to taste
½ teaspoon ground cinnamon
¼ teaspoon ground cumin
Instructions
1

Cook barley according to package instructions, as brands may differ; or try ATK's instructions: Bring 4 quarts water to boil in Dutch oven. Add barley and 1 tablespoon salt, return to boil, and cook until tender, 20 to 40 minutes. Drain barley, spread onto rimmed baking sheet, and let cool completely, about 15 minutes.

2

Whisk oil, molasses, cinnamon, cumin, and ½ teaspoon salt together in large bowl.

3

Add barley, raisins, cilantro, and pistachios and gently toss to combine.

4

Season with salt and pepper to taste.

5

Spread barley salad evenly on serving platter and arrange feta, scallions, and pomegranate seeds in separate diagonal rows on top.

6

Drizzle with extra oil and serve.
Nutrition
280 Calories

41g Carbohydrates

10mg Cholesterol

10g Fat

7g Fiber

7g Protein

2.5g Saturated fat

32mg Sodium