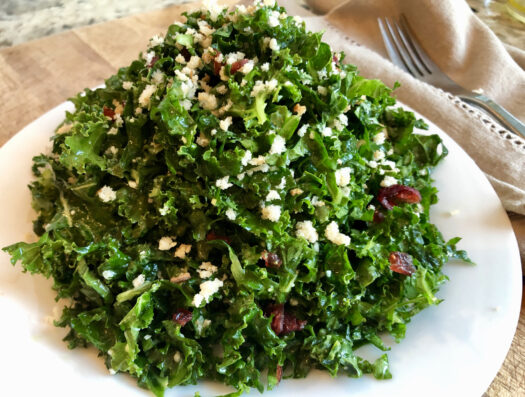 Dr. Weil's Tuscan Kale Salad
Ingredients
4-6 cups Tuscan Kale loosely packed Lacinato or dinosaur kale (ribs removed), chopped into small pieces (I also like to use shredded curly kale)
Juice of 1 lemon (I use 2 tablespoons)
3-4 tablespoons extra-virgin olive oil
2 cloves garlic (1 use 1 small clove)
Salt and pepper, to taste
Red pepper flakes, to taste
2/3 cup grated Pecorino or Parmesan cheese (I use 1/4 cup)
1/2 cup freshly made bread crumbs from lightly toasted bread (I use Panko)
I like to add dried currants
Instructions
1

Whisk together lemon juice, olive oil, garlic, salt, pepper, and a generous pinch of red pepper flakes.

2

Pour over kale in serving bowl and toss well. Using your hands, gently massage the dressing into the leaves. This step is very important as it tenderizes the leaves.

3

Add most of the cheese and toss again.

4

Add bread crumbs, toss again, and top with remaining cheese.