Adapted from Allrecipes.com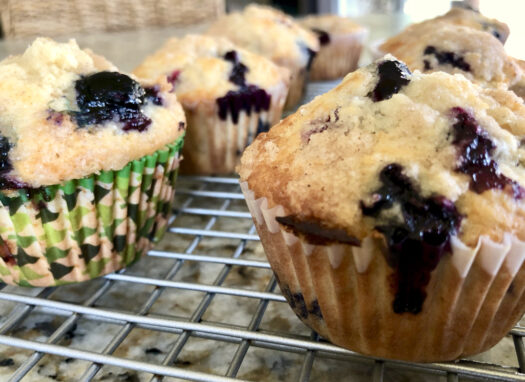 Print Recipe
Blueberry Banana Chunk Muffins
Ingredients
1 cup all-purpose flour
1/2 cup whole wheat pastry flour (or all-purpose)
1/2 cup sugar (add up to 1/4 cup more if you like really sweet muffins)
1/2 teaspoon kosher salt
2 teaspoons baking powder
1/3 cup neutral oil
1 egg
1/3 cup milk
1 cup fresh blueberries
1-2 bananas (depending on size), cut into chunks
CRUMB TOPPINGCrumb Topping (optional)
1/2 cup sugar
1/3 cup all-purpose flour
1/4 cup butter, cubed
1.5 teaspoons cinnamon
Instructions
1

Preheat oven to 400-F and grease muffin tins or line with muffin liners.

2

In a small bowl combine flour, sugar, salt and baking powder.

3

In a measuring cup for wet ingredients, first add the oil, then add the egg. Next, add only enough milk to reach the 1-cup mark, (approximately 1/3 cup milk - the idea is to add only one cup of liquid to the dry ingredients). Mix with a fork until just combined.

4

Fold in the blueberries and bananas. Pour into the muffin tins all the way to the top.

5

Sprinkle with topping (if using).

6

Bake for 15 minutes. If they appear to be done, insert a toothpick into the center. If it doesn't come out clean, check again in 3 minutes.

8

Mix all the ingredients together and use a fork to smash and incorporate the butter or use your fingers to smash it all together. Sprinkle on the top of each muffin.