Here are 2 great recipes for zucchini bread. I like the first one, from America's Test Kitchen, when I have a lot of zucchini to use up. The recipe below, from NY Times Cooking, uses much less.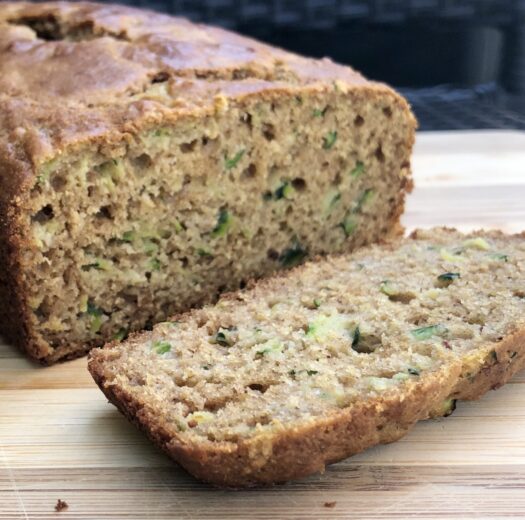 1 ½ pounds zucchini, unpeeled and grated (about 3 medium zucchini)
1 1/4 cups packed (8 3/4 oz.) brown sugar
1/4 cup vegetable oil
2 large eggs
1 teaspoon vanilla extract
1 cup all-purpose flour
1 cup whole-wheat flour
1 teaspoon ground cinnamon
1/2 teaspoon kosher salt
1 teaspoon baking powder
1 teaspoon baking soda
1/2 teaspoon nutmeg
Instructions
Shred zucchini with either the large holes of a box grated or use your food processor shredding attachment.
Place shredded zucchini in center of dish towel. Gather ends together and twist tightly to drain as much liquid as possible, discarding liquid (you should have 1/2 to 2/3 cup liquid).
Whisk brown sugar, oil, eggs, and vanilla together in medium bowl. Fold in zucchini.
Whisk all-purpose flour, whole-wheat flour, cinnamon, salt, baking powder, baking soda, and nutmeg together in large bowl.
Fold in the zucchini mixture until just incorporated. Fold in walnuts, if using.
Pour batter into prepared pan and sprinkle with granulated sugar (if using).
Bake until top bounces back when gently pressed and toothpick inserted in center comes out with few moist crumbs attached – 65-75 minutes.
Let bread cool in pan on wire rack for 30 minutes.
Remove bread from pan and let cool completely on wire rack.
---
Olive Oil Zucchini Bread
Adapted from NY Times Cooking
1 ½ cups/185 grams grated zucchini
⅔ cup/140 grams light brown sugar (I use 1/3 cup brown sugar and 1/3 cup *date paste)
⅓ cup/80 milliliters olive oil (or other oil such as safflower or canola)
⅓ cup/80 milliliters plain Greek yogurt
2 large eggs
1 teaspoon/5 milliliters vanilla extract
1 ½ cups/190 grams all-purpose flour (I use 3/4 cups all purpose and 3/4 cup whole wheat pastry)
½ teaspoon/3 grams salt
½ teaspoon/3 grams baking soda
½ teaspoon/2 grams baking powder
1 ½ teaspoons/4 grams ground cinnamon
¼ teaspoon/1 gram ground nutmeg
1 teaspoon/2 grams finely grated lemon zest
½ cup/55 grams chopped walnuts (optional)
Instructions
Heat oven to 350 degrees. Butter an 8-inch loaf pan.
In a large bowl, use a rubber spatula to mix together the grated zucchini, sugar, olive oil, yogurt, eggs and vanilla extract.
Whisk together the flour, salt, baking soda, baking powder, lemon zest and spices in a separate bowl.
Fold the dry ingredients into the wet ingredients.
Fold in the walnuts if using.
Pour the batter into the prepared loaf pan and bake for 40 to 55 minutes, rotating the pan halfway through baking.
The bread will be done when a toothpick inserted into the middle comes out clean.
Cool on a wire rack for 10 minutes. Remove the bread from the pan and cool on a rack completely before cutting and serving.