This quick and incredibly flavorful turkey chili is one of my favorite one-pot meals. I like to serve with freshly baked corn bread.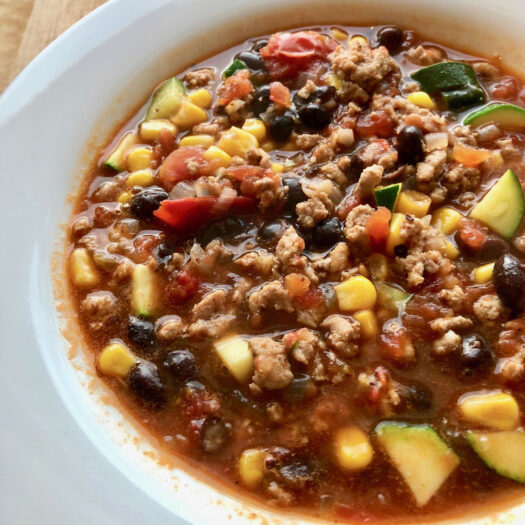 Print Recipe
Ingredients
1.5 tablespoons oil
1 pound ground turkey
1/4 cup coarsely chopped sweet white onions
2 large cloves garlic, sliced
1 tablespoon paprika
3/4 tablespoon cumin
1.5 teaspoons table salt
1.5 teaspoons black pepper
3/4 tablespoon dried leaf oregano
1.5 tablespoons cornstarch (I skip this)
4 tablespoons coarsely chopped green chilies (I skip this)
1 (14oz) can whole stewed tomatoes (I drain the tomato juice into the pot and then roughly chop the tomatoes)
2 whole chipotle peppers in adobo sauce (This is spicy! If you want it mild, use only one chipotle pepper and remove the seeds)
1 cup fresh corn (I use frozen)
1 cup finely chopped zucchini, about 1 small
I can black beans, drained (optional)
1.5 cups chicken stock (add additional stock or water if using black beans, to desired consistency)
Instructions
1

Heat oil in a large skillet over medium-heat. Add the onion, garlic, and turkey; cook until browned.

2

While the turkey is browning, add all the spices.

3

Add the rest of the ingredients and cook until the zucchini is tender, approximately 10 minutes.