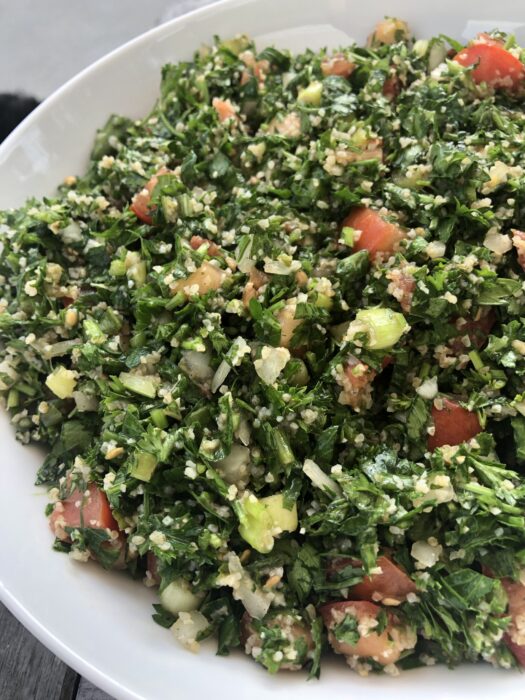 Print Recipe
Ingredients
1/2 cup fine bulgar (size #1)
2 bunches flat leaf parsley, stems removed and finely chopped (about 1/2 pound)
1 bunch curly parsley, stems removed and finely chopped (about 1/4 pound)
1 bunch fresh mint, stems removed and finely chopped
4 cups tomatoes (about 3.5 lbs or 5-6 medium), chopped with all their juice
1 bunch scallions (about 6), both green and white parts, thinly sliced
1/2 medium white onion, minced (3/4 cup)
1/2-3/4 cup fresh lemon juice, depending on taste
1/3 cup olive oil
1 1/2 teaspoons kosher salt
1 1/2-2 teaspoons allspice
1/2 teaspoon freshly cracked pepper
Romaine lettuce, for serving
Instructions
1

Place the bulgar in a bowl. Add the chopped tomatoes on top of the bulgar and let the juice from the tomatoes begin to soften the bulgar while the rest of the ingredients are prepared.

2

Leave the bunch of parsley intact. Fill a large bowl of water, and using the stems as a handle, plunge the parsley in and out of the water to loosen any sand. Dump the water and repeat 3 times or until no sand is visible in the bottom of the bowl. Shake out the water. Hold from the stems and finely chop the leaves from the top down to the stem. Add to the bowl of tomatoes.

3

Chop the scallions and onion, and add to the bowl.

4

Add the lemon juice, olive oil, and spices directly into the bowl and toss very well.

5

Allow tabouli to sit until more juices are released and the bulgar is completely softened.

6

Toss again and serve with romaine leaves.