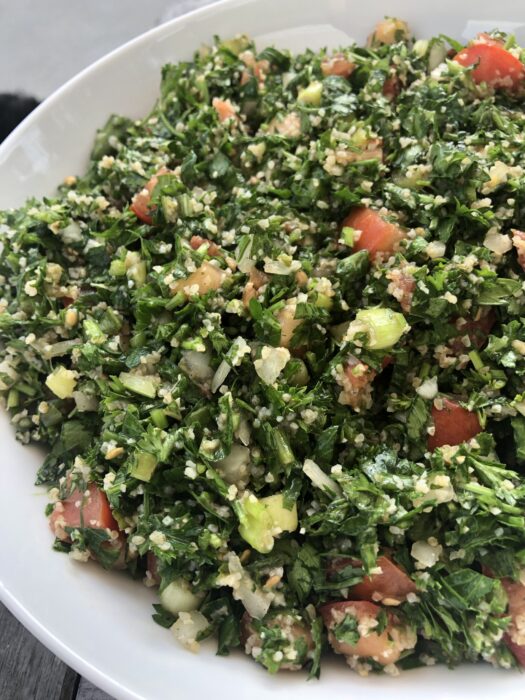 Print Recipe
Ingredients
1/2 cup plus 2 tablespoons fine bulgar (size #1)
2 bunches flat leaf parsley, stems removed and finely chopped (about 1/2 pound)
1 bunch curly parsley, stems removed and finely chopped (about 1/4 pound)
1 bunch fresh mint, stems removed and finely chopped
4 cups tomatoes (about 3.5 lbs or 5-6 medium), chopped with all their juice
1 bunch scallions (about 6) - include green and white parts, thinly sliced
1/2 medium onion, minced (3/4 cup)
1/2 cup fresh lemon juice (I've used up to 3/4 cup)
1/3 cup olive oil
1.5 teaspoons kosher salt
1.5 teaspoons allspice (I've used up to 2 teaspoons)
1/2 teaspoon freshly cracked pepper
Romaine lettuce, for serving
Instructions
1

Place the bulgar and tomatoes on top of the bulgar and let the juice from the tomatoes soften the bulgar while the rest of the ingredients are prepared.

2

Leave the bunch of parsley intact. Fill a large bowl of water and using the stems as a handle, plunge the parsley in and out of the water to loosen any sand. Dump the water and repeat 3 times or until no sand is visible in the bottom of the bowl. Shake out the water and chop finely.

3

Chop the rest of the vegetables and add to the bowl. Add the lemon, oil and spices directly into the bowl and toss very well.

4

At this point let the salad sit and marinate for a few minutes. Taste it again and adjust the dressing as needed.
Notes
Serve with whole romaine lettuce leaves.