Bircher Muesli is named after the Swiss doctor Maximilian Oskar Bircher-Benner whom developed the recipe in the early 1900's. Read more here.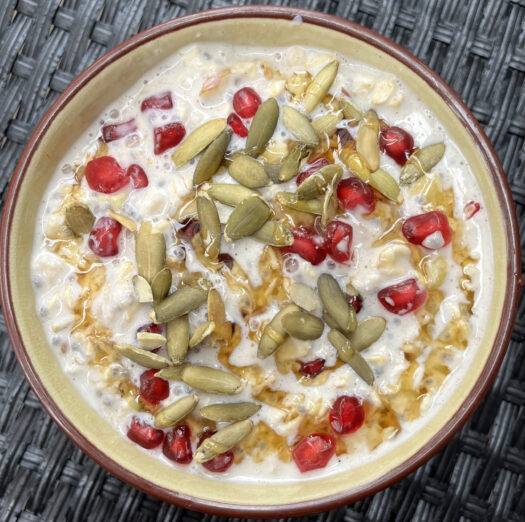 Print Recipe
Swiss Bircher Muesli (Overnight Oats)
Ingredients
2 cups rolled oats
2 cups milk of choice
1 cup plain yogurt
1/2 cup apple juice
1/2 large apple, coarsely grated (I use a large holed grater)
1/4 cup golden raisins
2 tablespoons chia seeds
1-2 tablespoons honey or maple syrup (optional)
1 teaspoon vanilla extract
1/4 teaspoon cinnamon
Pumpkin seeds and pomegranate seeds for topping
Honey, to drizzle on top
Instructions
1

Mix all the ingredients (except toppings) in a bowl.

2

Allow to soak refrigerated overnight or at least 3 hours.

3

Top with pumpkin seeds, pomegranate seeds, and a drizzle of honey.