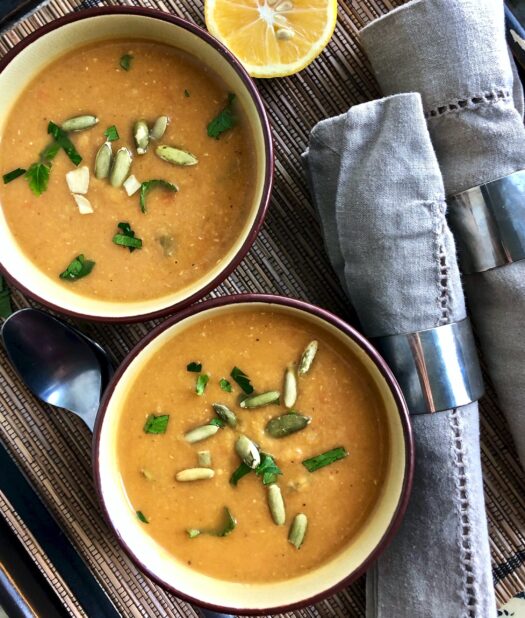 Print Recipe
Ingredients
1 large onion, chopped
1 tablespoon olive oil
2 garlic cloves, minced
1 teaspoon ground cumin or 1/2 tsp freshly ground cumin seeds
1 bay leaf
1 sprig fresh thyme
1 cup red lentils, picked over and rinsed
3 cups chicken broth
1 cup water
2 tablespoons chopped fresh cilantro
2 tablespoons fresh lemon juice
Instructions
1

Coat the bottom of a pot with oil. Add onion and 1/2 teaspoon salt, freshly cracked pepper, and cumin . Cook over medium heat, stirring occasionally, until softened, about 8 minutes.

2

Add garlic and cook until fragrant.

3

Add lentils, thyme, and bay leaf; bring to a boil. Reduce heat and simmer, stirring occasionally, until lentils are very soft, about 25 minutes.

4

Discard bay leaf and thyme sprig. Whisk vigorously to break down the lentils or use an immersion blender.

5

Garnish with cilantro and toasted pumpkin seeds.

6

Add additional water if the soup is too thick.