A traditional Lebanese breakfast or brunch. It's typically made with just fava beans, but I like to add garbanzo beans as well. It's a delicious, lemony, creamy bean dish, rich with olive oil and a nice bite of garlic.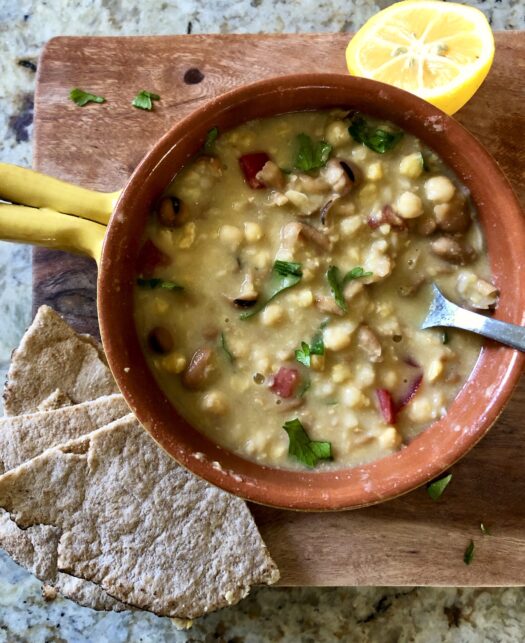 Print Recipe
Fava Beans with Lemon Juice & Crushed Garlic (Foul Mudammas)
Ingredients
1 can Fava beans, drained
1 can garbanzo beans, drained (or 2 cans Fava)
2 cloves garlic, smashed
1/2 teaspoon kosher salt, more to taste
Juice of 1 lemon, more to taste
1 tablespoon olive oil, more for serving
Fresh tomatoes and parsley, for serving
Instructions
1

Smash the garlic with a few pinches of salt with a mortar and pestle. Add the lemon juice; allow it to sit while preparing the beans (this helps to mellow out the raw garlic).

2

Add beans and their liquid to a medium pot (or drain canning liquid and barely cover the beans with water); cook until boiling; reduce heat and simmer for 15 minutes to soften beans.

3

Gently smash some of the beans to create a creamy consistency. Add the garlic, lemon juice and olive oil. Taste for salt and lemon.