Untested recipe (I've tasted but not made myself)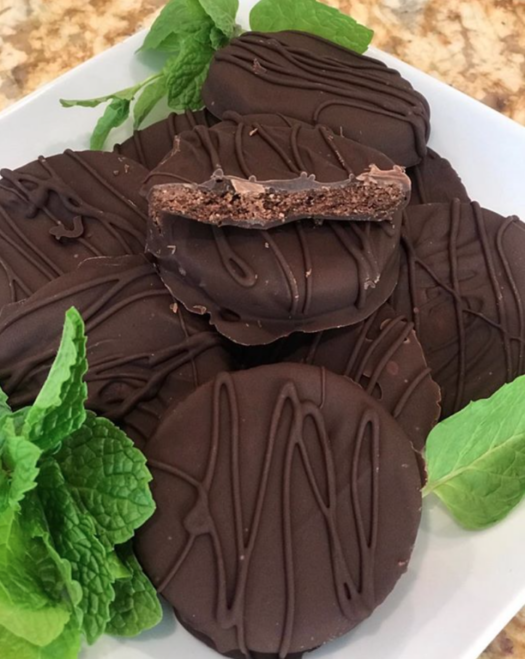 Print Recipe
Ingredients
1 cup almond flour
1/2 cup oat flour
1/4 cup plus 2 tablespoons unsweetened cocoa or cacao powder
3 tablespoons coconut palm sugar
1/4 teaspoon fine salt
1/4 cup plus 3 tablespoons pure maple syrup
1/2 cup almond butter
1/4 teaspoon peppermint oil
3 cups vegan chocolate
Instructions
2

In a bowl, mix dry ingredients. Add the wet ingredients and mix well to combine.

3

Flatten the dough onto a plate and cover with parchment paper. Refrigerate for 15 minutes.

4

Remove the dough from the refrigerator and roll it out to about 1/4 inch thick. Use a cookie cutter to shape the cookies into 2.5 inch rounds.

5

Bake for 11 minutes. Allow the cookies to cool.

6

In a double boiler, melt 3 cups of vegan chocolate. Remove from heat and add 1 teaspoon peppermint oil.

7

Dip the cookies into the melted chocolate to fully coat.

8

Refrigerate for 15 minutes to allow the cookies to set.

9

Place remaining melted chocolate into a piping bag (or use a ziplock with the corner cut out). Drizzle the chocolate over the top of the cookie.

10

Place in the refrigerator to set again for about 10 minutes.

11

These are best stored in the refrigerator. They are a bit hard straight out of the fridge (my preference), but will soften up at room temperature.