The first time I ever had a kale salad was at Public Restaurant in Los Angeles. This s still my all-time favorite salad.
Recipe by Tim Goodell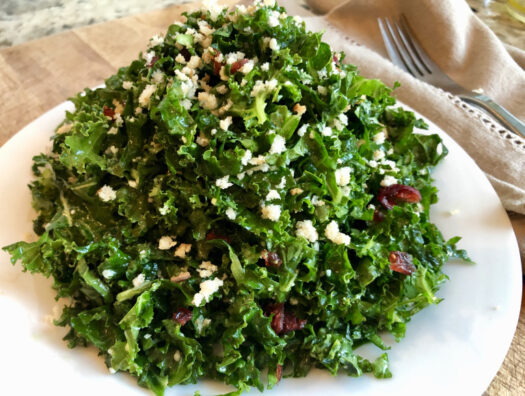 Print Recipe
Kale Salad with Pine Nuts, Currants, Pancetta Breadcrumbs & Parmesan
Ingredients
SALAD
8 cups kale, shredded
1/4 cup currants
1/4 cup pine nuts
1/2 cup pancetta *breadcrumbs
1 cup fine grated parmesan
Salt and pepper to taste
GARLIC VINAIGRETTE
1/2 cup olive oil
1/4 cup grapeseed oil
1/4 cup Champagne vinegar
1/2 tablespoon Dijon mustard
3 cloves garlic
1 teaspoons salt
1/2 teaspoon pepper
1/4 cup chopped parsley
PANCETTA BREADCRUMBS
3/4 cup breadcrumbs
4 ounces pancetta
Instructions
1

For the dressing: In a food processor, blend vinegar, garlic, and mustard, adding oil in a slow stream to emulsify. Season with salt and pepper; add chopped parsley.

2

For the breadcrumbs: Slice pancetta thinly and place on a baking pan and render fat in oven until pancetta is crispy. Once cooled, chop finely; mix into breadcrumbs.

3

For the salad: In a bowl, mix together the kale, dressing, pine nuts and currants. Season with salt and pepper to taste.