Adapted from Lebanese Cuisine by Madelain Farah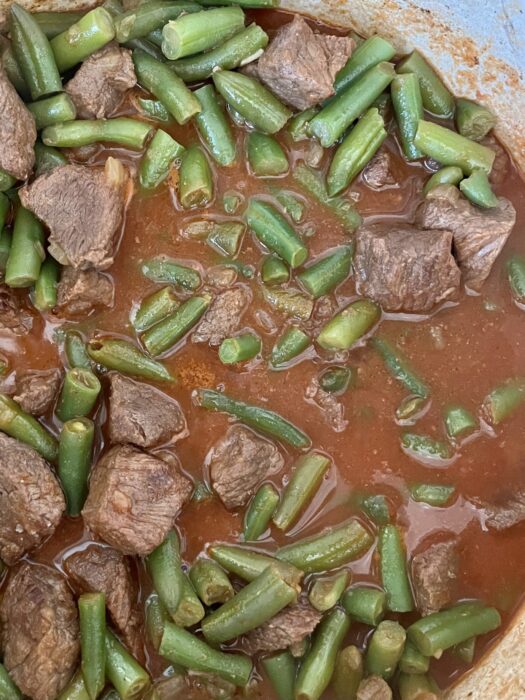 Print Recipe
Green Beans with Tomato Sauce or Green Bean & Beef Stew
This dish can be made with beef and served hot over rice or without beef and served cold with pita bread.
Ingredients
1 tablespoons olive oil

1 pound chuck roast, cut into 2 inch pieces (meat dish optional)

1 medium onion, chopped

2 large cloves garlic, minced

Kosher salt to taste (at least 1/2 teaspoon)

Freshly cracked pepper

2 (12 oz) packages frozen cut green beans

1/2 cup water or reserved beef broth

1 (8oz) can Hunt's tomato sauce
Instructions
1
Skip to step 2 if not using beef (see notes for optional pressure cooker instructions). Coat the bottom of a large pot with oil. Set heat to medium-high. Place beef in pan and season the top with salt and pepper. When the beef is brown, flip and season the other side.
2
Add the onion and garlic and cook for a few minutes until soft, scraping the bottom of the pot. Add enough water to barely cover the beef; bring to boil, cover, and cook about 1 hour, or until meat shreds apart easily with two forks.
3
Add the green beans and stir. Cover the pot and allow the beans to steam for 10 minutes, stirring once.
4
Add the tomato sauce. If no water is left from cooking the meat, add about 1 cup water.
5
Bring to a boil, reduce heat, and simmer, covered for 20-25 minutes or until green beans are very tender.
6
To serve with beef: serve hot over rice pilaf.
7
To serve without beef, drizzle with olive oil. Serve hot or cold with pita bread.
Notes
Stove-top Pressure Cooker instructions: Heat the olive oil over medium-high heat. Add the meat and cook unit browned, approximately 8 minutes. While the meat is browning add salt, and pepper. Once the meat has browned, add the onion and cook until softened. Add the garlic and cook until fragrant. Add one cup of water and cook under pressure for 15 minutes. Release pressure at once. Make sure the meat is tender. If not, place under pressure again for 5 more minutes, or until tender. Add the green beans, tomato sauce, and 2 cups of water, and cook under pressure for exactly 3 minutes. Release pressure at once. Cook, without the lid, until the tomato sauce reduces and thickens a bit.
is