Alternate, untested recipe at bottom of page.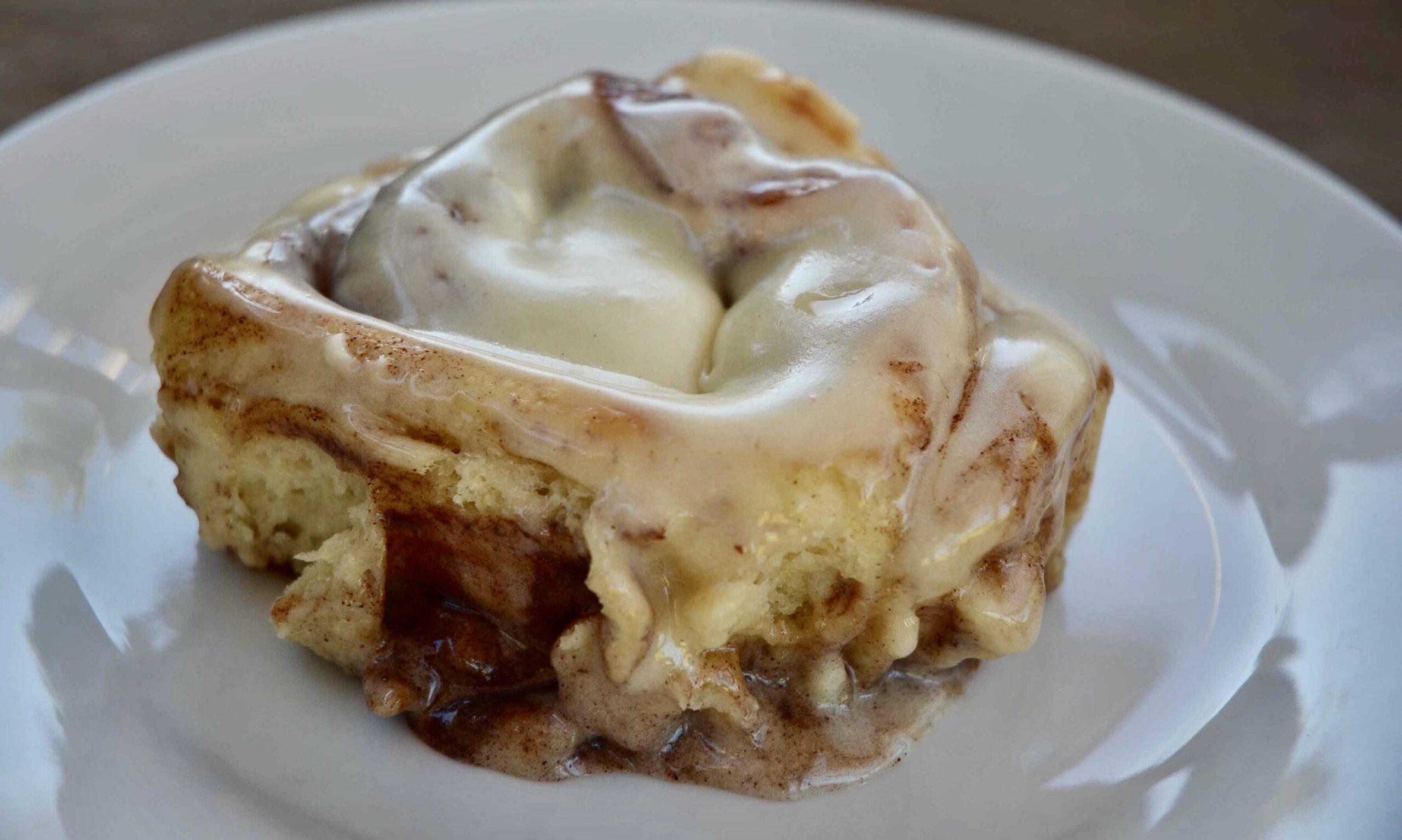 Print Recipe
Christmas Morning Cinnamon Rolls
Ingredients
DOUGH:
1 package instant yeast (I like Red Star Platinum)
1 cup lukewarm milk (I use 2%)
1/2 cup granulated sugar
1/3 cup butter, softened
1/2 teaspoon table salt
2 eggs
4 - 4 1/2 cups bread flour (all-purpose flour works too)
FILLING:
1 cup brown sugar, packed,
3 tablespoons ground cinnamon
2 tablespoons melted butter
FROSTING:
1/4 cup (4 oz) cream cheese, at room temperature
1/4 cup butter, at room temperature
2 tablespoons milk
1 1/2 cups powdered sugar
1/2 teaspoon vanilla extract
Pinch salt
Instructions
1

Pour the warm milk in the bowl of a stand mixer. Add the yeast and 1 teaspoon of the sugar.

2

Add the eggs, butter, and sugar. Mix until combined.

3

Add salt and 4 cups of the flour.

4

Mix with the paddle attachment until the ingredients are barely combined. Allow the mixture to rest for 5 minutes to allow the flour to hydrate.

5

Replace the paddle attachment with the dough hook.

6

Beat the dough on medium speed to form a dough. Let it knead on speed 3 or 4 tor about for 5-7 minutes or until the dough is elastic and smooth - it will be sticky and sticking to the sides of the bowl, but not so wet it's pooling at the bottom of the bowl. Add up the 1/2 cup more flour, if needed.

7

Place the dough into an oiled bowl, cover, and let rise in a warm place about 1 hour, or until the dough has doubled in size, usually about 1 - 1 ½ hours.

8

Grease a 9×13 inch baking dish with cooking spray or butter.

9

FILLING: Combine the brown sugar and cinnamon in a bowl.

10

Roll the dough out on a lightly floured surface until it is approximately 16 inches long by 12 inches wide. It should be approximately 1/4 inch in thickness.

11

Brush or spread the butter evenly over the dough, then sprinkle with the brown sugar and cinnamon mixture.

12

Beginning from the long edge, roll the dough, keeping it snug.

13

Cut the dough in half and then in half again, and then again. You should end up with about 12 (1 - 1 ½ inch slices). You can also use dental floss to slice rather than a knife.

14

Place the slices 1 inch apart into the prepared baking dish.

15

Cover with a clean kitchen towel or plastic wrap and allow to rise for another 30 minutes, or until doubled in size (If making the night before, cover dish tightly with plastic wrap and refrigerate overnight. In the morning, remove from refrigerator and allow to rise in a warm place until they are puffy, approximately 1-2 hours).

16

When ready to bake, place in preheated 350-F oven for 20-30 minutes or until nicely browned.

17

FROSTING: Mix all the ingredients together until fluffy.

18

Remove from oven and allow to cool 5 minutes. Spread the frosting evenly over entire surface and allow to melt down all sides of the rolls.

19

Refrigerate leftovers. Make sure not to leave out too long since there is cream cheese in the frosting.
Dough

2 ½ cups bread flour
2 1⁄4 tsp. rapid rise yeast
3 tbsp. sugar
2 ½ tsp. salt
1 cup buttermilk- warmed to 110 degrees
1⁄2 tsp. salt
5 tbsp. softened unsalted butter
Filling

4 tbsp. softened butter
1⁄2 cup light brown sugar
1⁄4 cup dark brown sugar
1/8 tsp. salt
Frosting

4 tbsp. soft butter
1 cup confectioners' sugar
1⁄2 tsp. vanilla
Combine buttermilk, yeast and sugar and set aside at least 10 minutes
Combine flour, salt – set aside
Mixing slowly, add flour mixture one cup at a time to the buttermilk yeast mixture in a stand mixer. Mix until dough comes together
Add the softened butter to the dough. Mix until combined
Remove dough and let rest 60 minutes or until doubled in size
Place the dough on a work surface and roll into a rectangle 12" x 15"
Spread with softened butter and sprinkle the dough with cinnamon-sugar mixture
Roll the dough, from the long end, creating a tube shape
Cut the dough log into even slices and place in a greased cake pan
Let rise; cover for 30-40 minutes
Bake for 30 minutes in a preheated 350 degree oven
Let cool for 5 minutes in pan and then turn out onto a cooling rack
If desired frost with a vanilla frosting